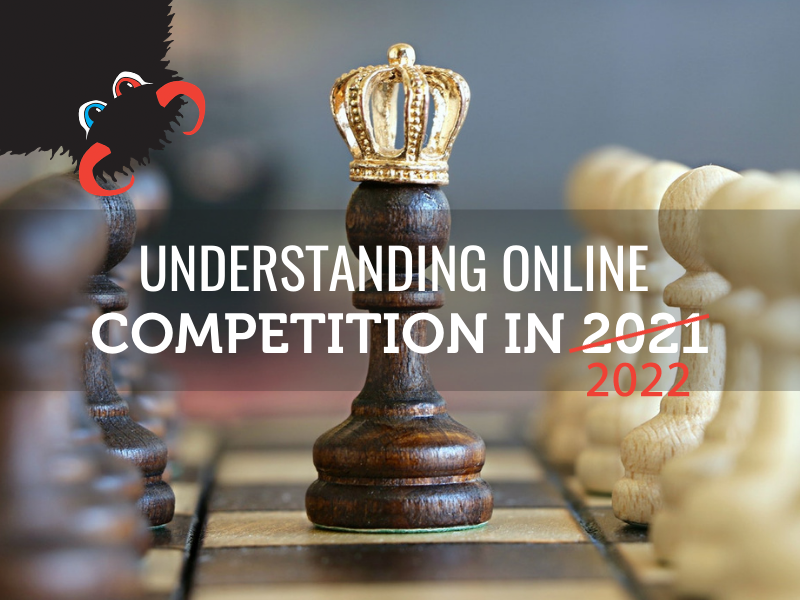 As a small business owner or an executive of a Fortune 500, you probably already spend a lot of time thinking about other brands that sell similar products or services to yours. However, it's important to think about online competition as well when you're building your brand.
As a consultant to many different types of C-Suite and Family Offices, knowing and understanding digital competition is one of the most misunderstood concepts when it comes to digital marketing, especially how real-world ideas of competition in most cases do not reflect digital competitive landscapes.
Online competition is any website that's ranking on Google or getting a lot of traffic on social media using the same target keywords as you. In order for your digital marketing strategies to be successful, you need to identify who your online competition is and put strategies in place to compete with them.
Sounds easy, right? In most cases, it should be but is often not. Here are some tips to help you narrow your competitive focus when dealing with online competition.
Identify your competition
In order to beat the competition, you have to start by figuring out who they are. Perform online searches for the keywords you are currently optimizing for, and take note of the types of sites that come up ahead of yours.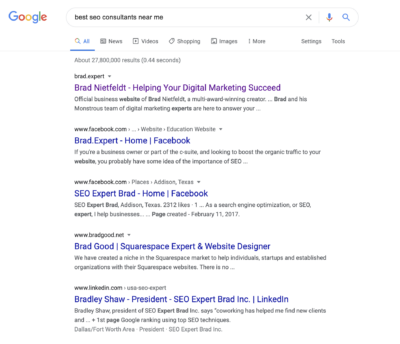 They may not be businesses – they might be blogs or magazines that publish articles related to your industry. You should also look on social media to see what accounts are trending for your location and the hashtags you're using.
Furthermore, you can use one of the many dozen SEO Tool Sets like SEMRush to find your competition.
Do thorough keyword research
In order to rank online, you are going to need to get creative with your SEO. This means you'll need to do extensive keyword research to find both long and short-tail keywords that your audience is looking for. Again, a tool like SEMRush will make this MUCH easier for you to collect data and display it in a meaningful manner.
If you have very strong competition for certain keywords, you might get more traffic by directing your focus elsewhere.
You should also make sure you are optimizing every aspect of your site with things like image tags, meta descriptions, and clean URLs for each page.
Your goal should be to rank for EVERYTHING related to your industry, even if it's not exactly what you do (apples to oranges). By ranking for like-terms, you can bring in qualified leads and your sales team can find a translation for the apples to the apple service offering.
Create engaging content
The true key to standing out from your competitors is to create engaging content that really resonates with your online readers. This is particularly true on social media but applies to all web content that you create.
Get out of your own way! Your idea of how you perceive your own business, service, or service offerings may VASTLY differ from how your would-be customers might feel. Many C-Suite executives get caught up in an "idea" of having to be branded a certain way and miss opportunities to pull in new customers who don't resonatte with the company's singular message. An important note, if you focus your communication to be a specific way, and never try to accommodate everyone else, you will inadvertently have to redo your messaging when you rebrand – something that costs a fortune!
Try to put yourself in the reader's position – what would drive them to not only stop and look at the page but also to share it or comment on it? Don't be afraid to get creative. You could create infographics, videos, or even just well-crafted blog posts that are truly helpful to your target audience.
There is no one-size-fits-all answer for the level of engagement you should aim for, but try to be as original and interesting as possible to really capture attention.
Be active on social media
Social media is a great way to connect with potential customers and build your brand. You should be active on at least one or two social media platforms, depending on where your target audience is most active.
Make sure you're posting interesting and shareable content regularly, and take the time to engage with other users. If someone mentions you in a post, be sure to thank them. If you can get involved in conversations, even better.
You should also consider running social media ads to promote your content and reach a larger audience.
Get involved in the community
Depending on your industry, there might be online forums or other communities related to your business. Getting involved in these can help you build relationships with other professionals in your field, which can lead to business opportunities down the road.
You can also use these communities to get feedback on your products or services and to learn about what your competitors are doing.
Capture and Analyze Your Competitions Data
By understanding your online competition and taking steps to compete with them, you can ensure that your brand is visible and that your content is being seen by the right people. With a little effort, you can make a big impact in the online world.
It's no secret that I have become known as a digital assassin when it comes to online data reconnaissance, however, getting competitive data is one thing but analysis and dissemination of the data is completely different.  Why just know, when you can know, dominate, and destroy?
Understanding your competition is critical in any industry, but especially in the online world. Things can change very quickly, and if you're not keeping an eye on what your competitors are doing, you could fall behind.
There are a few key things you can do to stay ahead of the curve.
First, you need to understand what keywords they are targeting. A tool like SEMRush can help you with this by displaying the estimated monthly search traffic for each keyword. If they are getting a lot of traffic for certain keywords, it's likely because they are ranking well for those terms. You can also use this tool to see what keywords you are ranking for and compare your traffic with theirs.
In addition to keyword research, it's also important to keep an eye on their content strategy. Are they creating a lot of content? What kind of engagement are they getting? You can use a tool like BuzzSumo to see the most popular articles for a given domain. This will give you an idea of what content is resonating with their audience and how you can improve your own content strategy.
Did I mention being active on Social Media? Yeah, it's that important!
Again, you need to be active on social media and in online communities related to your industry. This will help you build relationships with other professionals, get feedback on your products or services, and learn about what your competitors are doing.
For instance, have you kept up to speed with your LinkedIn activity lately? Dropping simple likes, and commenting on interesting posts that are relative to your targeted service industry is a great way to stay first of mind. Interacting with competition in the social space can be a great way to establish yourselves as equal or an even better solutionary contender.
By understanding your online competition and taking steps to compete with them, you can ensure that your brand is visible and that your content is being seen by the right people. With a little effort, you can make a big impact in the online world.
Get Help
Do you need help to smash your online competitors? I am one of the leading SEO and C-Suite consultants in the world and my subsidiaries offer a variety of multi-award-winning marketing solutions that can help ramp your brand identity and drive sales. Let's talk and schedule your consultation.
About Brad Nietfeldt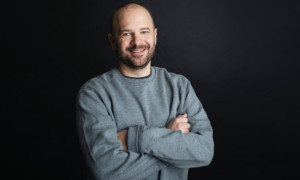 As one of the most sought after digital marketing gurus in America, Brad's entrepreneurial career involves writing and producing music, successful tech start ups, working for several fortune 500 companies and in his early 20s he was of the first support staff at the then start up currently known as PayPal.com. Learn more.
Let's Work Together
TELL ME MORE ABOUT YOUR PROJECT
Want more traffic, leads, & sales?
We work with some of the world's biggest and most reputable brands, why not allow us to work as an extension of yours? All it takes is a few seconds and a click to start the process.