Top 10 Successful Companies with the Best Leadership
A Monstrous Approach to Creative Management
Throughout history, this era, this time is the golden age for all entrepreneurs and those who wish to become something more. Gone are the days where lucrative jobs were first priority. People of this generation prefer challenges and untraveled roads. This mentality has resulted in many ventures and entrepreneurial journeys. As time will advance, more people are likely to jump on the entrepreneurship bandwagon and the competition is likely to get steeper and harsher than before. Hence, it has become significant to have a strong foothold in the digital spectrum to gain an edge over the competitors. Omaha Media Group is one of such companies that designs and develops intuitive web, mobile and SEO friendly applications to help companies take advantage of the power in social and business collaboration, cloud computing, mobile applications, and next-generation tools for the enterprise businesses.
A multi award winning company, Omaha Media Group is strategically located in the heartland of America – Omaha, Nebraska. The company has expertise in developing high quality applications and websites in varied niches such as social networking, finance, health and various web 2.0 applications. Since it is a specialist in the domain, the company proffers 40 to 70 percent cost savings to the clients on custom creative projects. The firm's services cover every length and breadth of the client's digital world, reshaping it into better and more efficient.
Astounding Genesis & Journey
Incorporated in the year 2008 by Mr. Brad Nietfeldt – Managing Partner, Omaha Media Group originally began as back-office development work for other agencies. With consistent efforts and through the course of time, the company grew manifold with a focus on expanding creative management firm. The unprecedented growth that spurred employees' hiring raised the complexity of the company from hiring, payroll, competitive benefits, maintaining cash flow, etc., and the leadership team was hired to simplify the process. During the initial days, Omaha Media Group relied heavily on finding HR, payroll and good counsel to guide the company through growing period and as of today, the firm has a streamlined hiring and employee management process that is ready and willing to face even the most challenging workforce problems and opportunities.
With an adage – 'The purpose of life is not to be happy. It is to be useful, to be honorable, to be compassionate, to have it make some difference that you have lived and lived well,' – Ralph Waldo Emerson, the company is actively engaged in creating and cultivating new technologies and brand awareness for the betterment of the world. Omaha Media Group is honored and takes immense pride in helping to reshape the world for the better.
Omaha Media Group has employed an open office environment that allows teams to work together seamlessly. The company emphasizes the huge benefits reaped from the open environment such as widespread ideas, bonding, joking and playing around with each other as the company firmly believes that individuals who have fun and do good work are highly motivated and takes pride in their work.
Omaha Media Group is more than just a service provider to the clients. With its uniquely created OMG strategy which does marketing and SEO enables the company to work with clients on a day-to-day basis and not just when the clients need some project. With the strategy, the company becomes an extension of the client's team.
Stalwart Leadership
Mr. Nietfeldt continuously leads the team at the forefront with innovative ideas. As a leader, he has realized that no environment is perfect. However, he forms an environment that proffers opportunities for improvement and growth, thereby swiftly analyzing those opportunities to formulates action plans, enhance the growth of the teams. "Our goal is to be an extension of our client's business so they feel like we're part of their own company," says Mr. Brad Nietfeldt. "We've actually written job descriptions for some of our clients so they can hire people who are able to work with us seamlessly."
The company offers services across the variety of industries and working with Fortune 500 companies as well as with start-ups. Omaha Media Group proffers services range from custom mobile application development to on-going digital marketing and SEO strategies.
About Brad Nietfeldt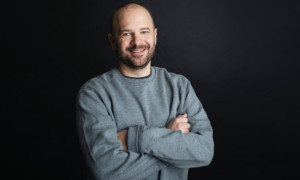 As one of the most sought after digital marketing gurus in America, Brad's entrepreneurial career involves writing and producing music, successful tech start ups, working for several fortune 500 companies and in his early 20s he was of the first support staff at the then start up currently known as PayPal.com. Learn more.
Let's Work Together
TELL ME MORE ABOUT YOUR PROJECT
Want more traffic, leads, & sales?
We work with some of the world's biggest and most reputable brands, why not allow us to work as an extension of yours? All it takes is a few seconds and a click to start the process.